Read the article at Independent.ie
Green is an inviting colour and makes for a warm welcome for guests arriving at your home.
Ahead of St Patrick's Day, you could embrace your true "Cead Mile Failte" green genes with a lick of paint. Or, get some green inspiration at house interiors events, at Dublin's RDS from 25th-27th May 2018. To celebrate St Patrick's day, house is offering 2-for-1 tickets this weekend.
Fleetwood Paints colour consultant, Sinead Cassidy, has given us some top tips on using green as a colour scheme in your own home:
Green, in all its wonderful shades, is a calm and soothing colour for the home. Green interiors had their heyday back in the 1970s, but modern-day greenery takes a far subtler approach to the retro shades of yore. After cropping up in trend reports for seasons, green finally had its moment when 'Greenery' was announced as Pantone's Colour of the Year 2017.
Since then our appetite for all things green shows no sign of slowing. Whether you go for pops of forest green with indoor plants or chic shades of moss for the kitchen take your cue from 'Greenery' and embrace this colourful trend just in time for spring.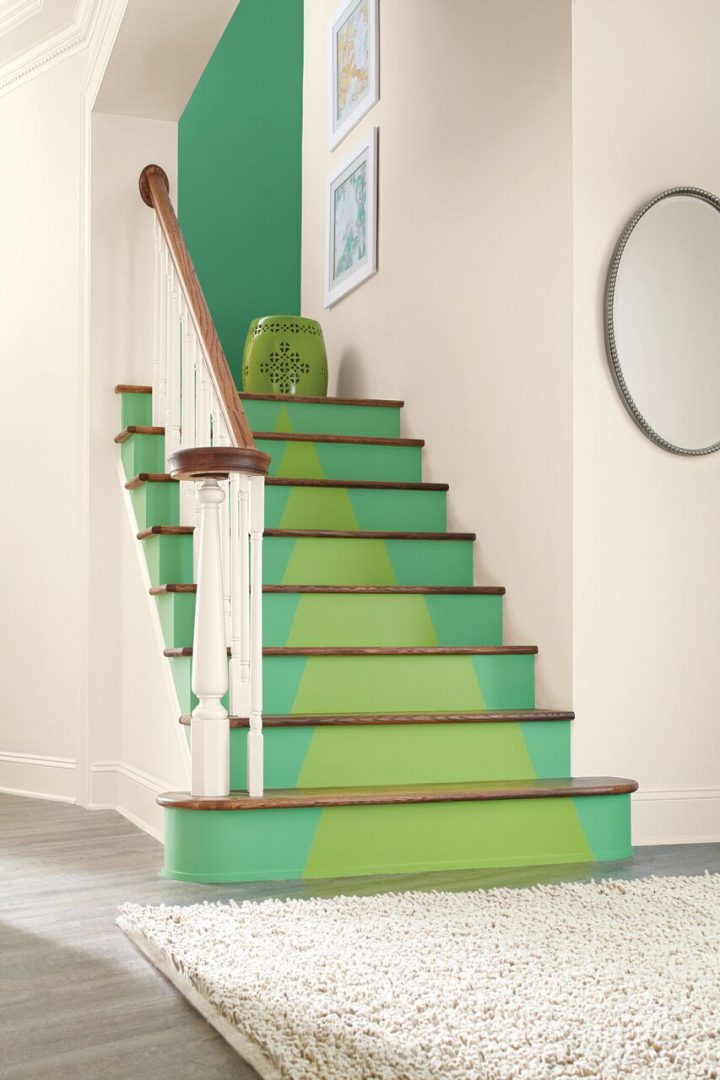 Fleetwood Sentinel Copper
When choosing the right shade of green consider how your space is used. Whether it's for relaxation, work, living or is a high traffic area like the hall, you can choose your tone accordingly. You may want to use a subtler green for restful spaces or make a daring statement with a deep, dark green in a living area.
Green tones can be wonderfully vivid and dramatic, or serene and relaxing. Team Fleetwood's Pantone 'Pineneedle', a lush deep green, with warm blush pink or citrus textiles to create a look that oozes elegance with a daring touch.
Or try Fleetwood Vogue's "Sentinel Copper" on the stair risers; a clever way to add a mid-cool optimistic green to your hall surroundings.
Using green will require an element of interiors bravery. Often, we find it difficult to take the plunge and instead revert to tried and tested neutrals. Paint is such an inexpensive and creative way to make an impact, so pluck up the courage and see how fantastic it can look.
house 2018 ticks all the boxes when it comes to interiors and design with over 160 market leading creative visionaries and experts ranging from interior designers, furniture makers and suppliers, kitchen fit-out specialists, bathroom specialists, lighting experts, flooring providers, fabric suppliers, window providers, paint and wallpaper suppliers, home extension specialists and home accessory suppliers.
Don't miss out on the Art Loft where over 40 Irish artists will display their stunning works and book in for a consultation with a member of the Interiors Association where you can bring your drawings and designs to get the best value you can from your session.