Smaller houses are an opportunity to see what can be done to transform modest accommodation into a spacious, family-friendly home, writes Carol O'Callaghan

Interior designer Sinead Cassidy at her home in Douglas: 'By using colour and design… you can add your own personality and create your own airy and welcoming space.' Pictures: Larry Cummins
I'M SUFFERING from a severe dose of pantry envy, exacerbated by symptoms known in the interiors business as coveting laundry chute. However, as I reside in a bungalow, the latter is unlikely to develop fully.
Nevertheless, pantry envy persists after a recent visit to the gorgeous home of interior designer Sinead Cassidy, a woman of taste and a practical eye, which she has applied to her home since moving to the Cork suburb of Douglas with her husband and family in 2004.
"It was your typical three-bedroomed house, with kitchen, dining and living," says Sinead of what was then a seven-year-old house. "It needed to be brought to life with an open-plan element, where I could keep an eye on the children when they were young and think ahead to when they'd be older."
This led to her first project in 2007, when she extended to make a new kitchen and dining area.
Having the boon of a corner site with large garden means a substantial outdoor space remains while, inside, the extension consists of a particularly lightsome, south-facing space, with Shaker-style oak units, recently refreshed in retro green Acorn paint by Little Greene, and a dining area overlooking a serene mature lawn and shrubberies.
The old kitchen and dining room are now repurposed into a television lounge with family sofa, where a soft rug adds gentle colour on blond-wood flooring, while the original dining room offers additional space for doing homework or chilling out.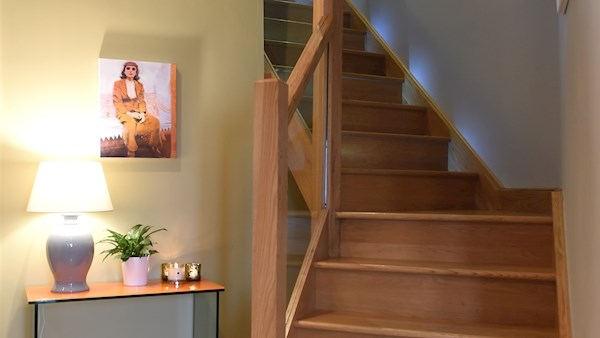 The original living room remains, linked by glass doors to the other rooms, and where a deep turquoise and sandy gold paint scheme offer a sophisticated and formal feel, where modern furniture is grounded by antique details, including a dumb waiter family heirloom.
By 2012 the second phase of Sinead's vision took shape.
While leading us upstairs, via a timber staircase with modern glass panels in lieu of spindles, she explained, "I wanted to convert the garage into my office and decided to build up at the same time."
This means the original three bedrooms on the first floor remain, one each for her son and daughter, and an ensuite for guests, which she's currently decorating. The original family bathroom, however, has been moved to house an ultra-modern shower enclosure and a quartz floor with just enough sparkle for Sinead to joke, "It's my disco bathroom." Here we also find the origins of that covetable laundry chute which saves so much legwork on the stairs.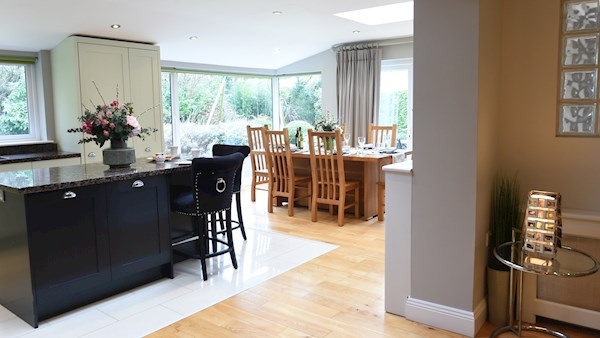 Next door is a new master bedroom with walk-in wardrobe and roomy ensuite, and up another flight of stairs to the attic is a rumpus room for the children to spend time with their friends.
In the midst of such creativity and style, we see another example of Sinead's practicality, where storage areas are built into the roof eaves for stowing infrequently used items, such as suitcases. It's also here she roadtests paint colours before committing.
Trooping back to the ground floor, we pass walls lined with family photos, artwork and objects collected from galleries, fairs and trips abroad, until we arrive in the hall where the door which once led to the garage now opens to her office. Adjacent is the downstairs loo, with a surprise snap of colour in the over-basin green glass splashback, giving life and fun to what is sometimes a tricky space to be creative.
Coloured splashbacks, it seems, are a bit of a thing with Sinead. In the kitchen, she's opted for bright pink behind her hob, with a matching paint continuing across the entire wall, linking, unexpectedly, with the garden where a pink camellia is in full bloom.
"I love playing with colour," she explains. "But there's a danger of over-stimulating the house with too many colours, although you can under-stimulate too."
She's avoided both by making balanced colour choices throughout the house, where warm neutrals are enlivened by dashes of wall colour and accented in textiles.
With such a transformation, it's easy to forget the modest start of this family home.
"This house is representative of so many of us who live in estates and houses that were not born with charming characteristics found in old homes," Sinead explains. "By using colour and design to support the rooms' function, you can add your own personality and create your own airy, fun and welcoming space."