Leading Irish designers will take to the stage at the House event at Dublin's RDS this weekend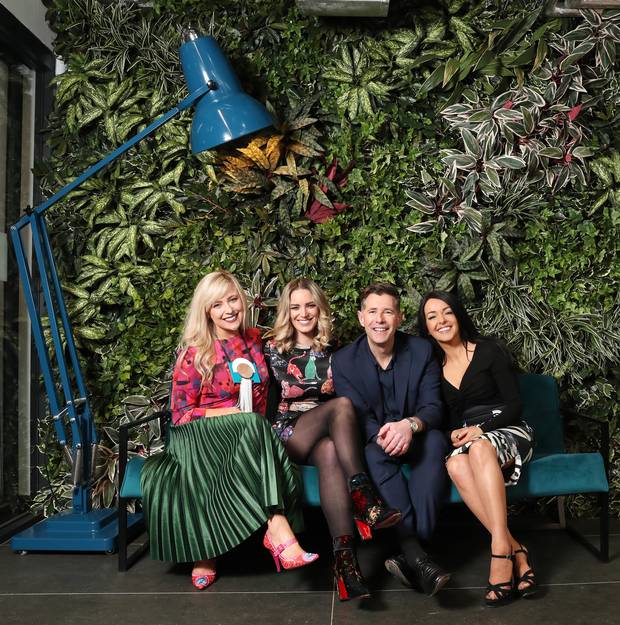 Creating a really beautiful home involves a lot of hard graft. But you still need that tiny spark of inspiration. Without it, you can end up with a home that's, well, uninspired. Nobody wants that.
Inspiration is the secret ingredient of interior design. When it strikes, all the other aspects of the project will fall into place. It'll still be hard work, but it won't be a chore. The trouble is that inspiration is hard to come by. You can't just turn it on like a tap and there are few things more annoying than someone instructing you to "go and get inspired". When people say that to me, it makes me want to burst them.
Inspiration is a state of mind. It's subtle, individual and precious, and it's not something you can buy in the shops. But there are ways of making it easier on yourself and one of these is to listen to the experts. That's why the Inspiration Stage is one of my favourite things at House which takes place this weekend at the RDS. It's soothing to hear the industry's finest creative minds tell us that it's not easy to get inspired. "If you're lacking inspiration, the best place to start is you," says Jo Hamilton, one of the keynote speakers at House. "It's all in there! You just have to tap into it." Hamilton isn't just a celebrity interior designer. She's also a wonderfully entertaining speaker and her mission is to demystify the process of interior design. "I'm going to break it down into key principles: colour, lighting, space and planning. I'll take the panic away and give people some practical tips so that they can walk away inspired!"
Hamilton has plenty of experience with inspirationally-challenged clients. "I know that rabbit-in-the-headlamps feeling!" she says sympathetically. "Sometimes I see the panic in their eyes." She remembers a recent client. "She didn't know what she wanted, she didn't know where to start, and she kept telling me that she didn't have a style. I told her not to worry about it, and we just started talking about her life. She told me that she'd lived for two years in Japan and that she loved the Japanese tea ceremony. I asked her if this was something that we could work into the design scheme. She said that it was and then she produced a couple of art works that she'd bought in Japan and a few special pieces of Japanese furniture. We built the scheme around them."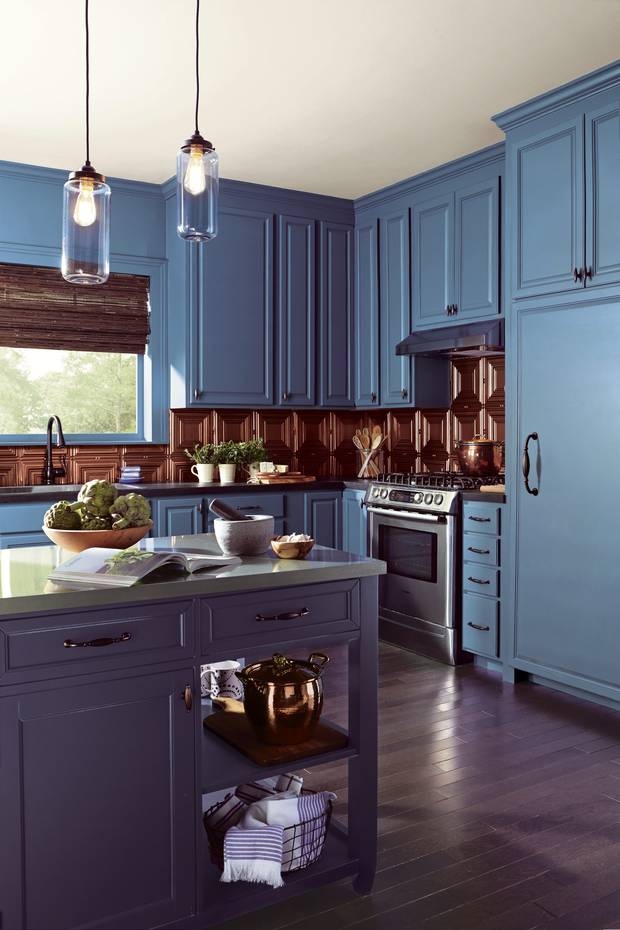 Blue and Bronze kitchen by Fleetwood
Like Hamilton, the interior architect and award-winning blogger, Suzie McAdam, will use the Inspiration Stage to throw a bit of light on her design process. "I'll be going through my own projects, from mood boards to the finished interior, to show how it works for me," she says. "Travel is key! I love going to design shows, especially the Salon de Mobile in Milan. I'm really impressed with the way that some of the big furniture companies are collaborating with designers." This year's discoveries include the curvy wrap-around Vuelta armchair and sofa, designed by Jaime Hayon for Wittmann.
Where people struggle to find their style, she urges them not to lean too heavily on online platforms. "Pinterest and Houzz are useful for redefining a concept, but don't overuse them. Design becomes boring if you try to recreate a single image." Often, the inspiration is in the detail. "I've just finished a project for a client who loves Paris. When we were looking at the kitchen, we decided to bring in a Parisian element." But, rather than decorate an Irish kitchen in the manner of a French bistro, it was a matter of bringing in subtle references. "It can be as simple as brass handles on the presses," McAdam explains.
When Roisin Lafferty of Kingston Lafferty Design joins me on the Inspiration Stage this afternoon, we'll be talking about how she manages to create cosy comforting spaces. "Home is very important to me," she says. "At the end of a long day I just want to curl up on the sofa. "Life can be so frantic! Social media is relentless and we're consumed by productivity. I want to go in the opposite direction and help people create spaces in their home where they can detach from the world and be calm. It's not just a nice thing. It's absolutely necessary!"
But calming doesn't mean bland. Kick-ass colour is Lafferty's trademark. In a recent collaboration with DFS, she styled the industrial spaces of Dublin's Chocolate Factory, just to show people just how much fun you can have with colour. "People tend to play it safe with sofas," she said. "I do understand that. It's an investment purchase. But there are such amazing colours out there. In one of the rooms, I used a lime green armchair. It sounds disgusting, but it was my favourite thing there!" The chair in question was the DFS Peace chair (€519). She also used the L-Shaped Zinc sofa (€2,099) in emerald green; the Palace sofa (€2,329) in blush pink; and the Eden 3 seater (€1,689) in mustard.
Not everyone, she admits, will want a brightly coloured sofa. If you don't, she recommends the new range of velvet cushions from Foxford (from €59 at Arnotts). "They come in deep jewel colours and they're really cosy." The prints on the wall were by the Dublin-based print collective, Jill and Gill (€300 each) and the paint was from Fleetwood's Pantone collection (€50 for a 2.5 litre tin). "We used very strong colours on the wall as well," Lafferty admits. "I wanted to show people the power of colour!"
Still chicken? Tomorrow morning, Fleetwood Colour Consultant, Sinead Cassidy, will take the stage to tell us how to be brave with colour. When she finishes, be prepared to fight for your seat. Next up is the massively popular Dermot Bannon (in case you've been living under a stone, he's the charismatic architect from the RTÉ TV series, Room to Improve). I don't know what he's planning to talk about but, if last year was anything to go by, you can expect a good buzz. There's no better man for generating a bit of creative energy around design.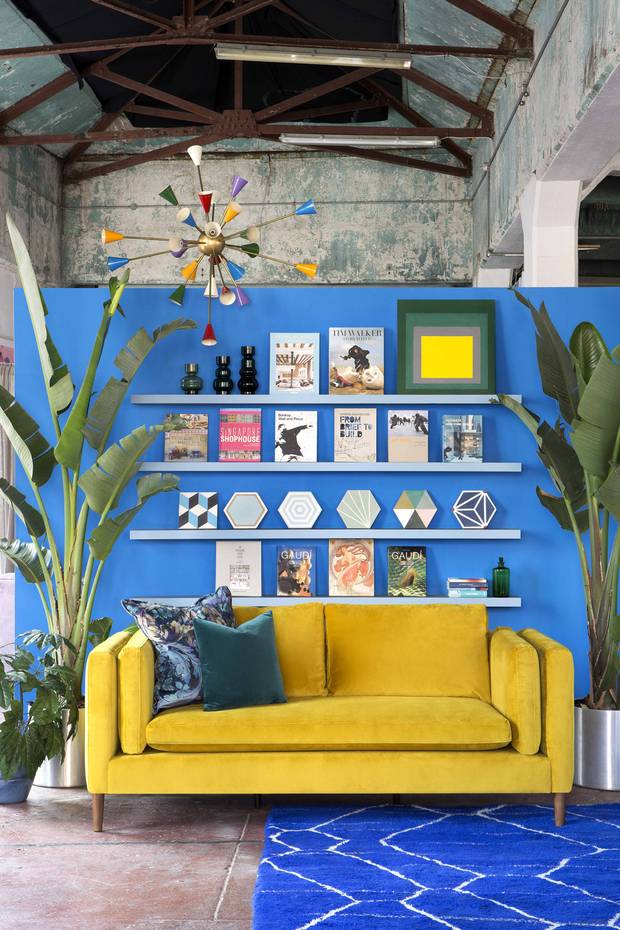 Eden Mustard 3 seater sofa, €1689
To see the original article, please visit The Irish Independent at this link